TELLINGTON TTOUCH FOR YOU'
• My personal access
… in search of a supplement to my logopedic work I got to know Tellington TTouch for Yo'. Tanya Lasser, my later teacher, explained the bases of this method to me and let feel me different Touches. This kind of the touch was an absolutely new feeling for me. I felt that my body opened and generated a "Wow" feeling.
Some building sites which were in my body became lower or totally disappeared. After an other meeting I could perceive the same effect and I resolved to finish the 3-year-old education in the Tellington TTouch for You' Practitioner to be able to hand on this miraculous experience to my patients.
Since this time I use the method of the Tellington TTouch for You' in combination with the logopedic treatment of my patients for the improvement of her medical condition and with the ranges of application cited below.
Linda Tellington-Jones describes her method with the words: "to produce a connection with our body … with a nice kind and to recognise the fantastic intelligence of our cells. Then it is also possible for us to feel a deep gratitude for our body and fear can be unleashed There I am."
I explain the method with pleasure as a "medicine without side effect, but with interesting side effects – Pure and Simple – and any time ready to hand."
• History, definition, effect, application

Linda Tellington Jones developed in the 80s the Tellington TTouch (Trust Touch), inspired by her education with the Israeli physicist Moshè Feldenkrais, as a part of her learning- and healing concept, originally for animals.
With research projects and studies about Tellington TTouch the "effect" of the Touches could be also detected in humans.

Linda Tellington-Jones
© www.menorquins.at

Tellington TTouch for of You' is a deferential, gentle and manual technology which contains a huge number of rotary, lifting and stroking touches and movements.
Besides, they keep on her clothes.
During the treatment I ask you to give feedback about her momentary sensations to myself to find an optimised state while forming heart, mind and emotions and can bring in unison. Then very fast it is to be reached possibly a coherent state to diminish fear and stress and to relieve pains.

Linda Tellington-Jones
© www.ok-pictures.at
The neuro feedback research indicates that it is very quickly possible on account of the Touches for an "Awakened Mind" condition to attain. Also it was found out that the long time stress hormone Cortisol can be lowered measurably and that the luck hormone Serotonin and the trust hormone Oxytocin are tipped out.
I assimilate the method of the Tellington TTouch for of You' in logopedic work and apply the Touches to increase the performance and regeneration in the top-class sport, in the acute and chronic pain therapy and while regaining of movement ability.
I also give with pleasure instructions how the Touches can be applied to the self-help or in the circle of the family.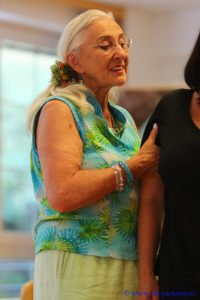 Linda Tellington-Jones
© www.ok-pictures.at
• Quotations
"TTouch is a time of the attention, the honour and the respect"
Linda Tellington – Jones
"The Tellington TTouch has caused in very uncomplicated manner completely astonishing with my 6-month old son." Dr. med. Rose Maria Gattringer
"TTouch is a touch with a strong message to the selfhealing strength of the cell."
Univ.Doz. Dr. Andreas Heitger, pediatrician
"TTouch opens the gate to a differentiated selfperception understanding and therefore to a new self-perception"
Dr. Elisabeth Werner,medical specialist for psychiatry and psychotherapist